It has been a little over two years since the birth of Malengo, and it's time for an update!
Malengo started in May 2021 with the goal of facilitating international educational migration. Through financing and mentorship, we support students from low-income countries in applying for an obtaining a Bachelor's degree in a high-income country. Our vision is to dramatically improve the lives of our students and their families, as well as their home and host communities. Here is what we have been up to lately!
Uganda–Germany Program
Our flagship program supports high school graduates from Uganda on their journey to a Bachelor's degree in Germany. The program covers the cost of living in the first year of studies, as well as the cost of university applications, English and German language preparation, visas, and flights. Students also receive extensive mentorship from staff and a network of mentors, both in Uganda and Germany.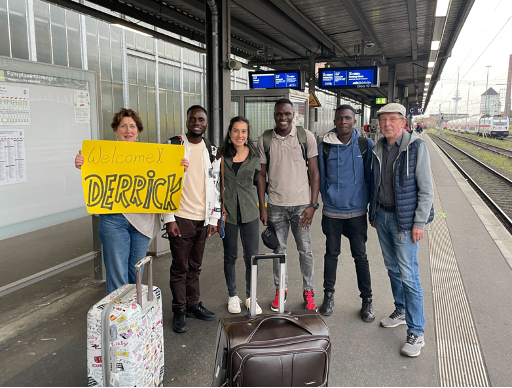 In 2021, we admitted 10 students from an applicant pool of 121. Seven of these students were successful in their university applications and traveled to Germany in the fall of 2021. In 2022, we admitted a new cohort of 30 students from an applicant pool of 740, of whom 17 traveled to Germany. (This is a lower number than expected due to an unfortunate fraud case. We also dismissed one student from the first cohort for the same reason. More on this below.)
In 2023, we admitted 120 students from an applicant pool of 1090. Of these, 114 accepted the offer, and 112 obtained university admission and are in the process of traveling to Germany.
Mentorship Program
We have a strong network of mentors in Germany, who help students with everyday tasks like finding housing and jobs, opening bank accounts, and dealing with bureaucracy. Each student is assigned a personal mentor. Mentors are compensated to ensure that they take their job seriously. Increasingly, mentors are current Malengo students from older cohorts.
An important element of Malengo's mentorship is to promote Malengo's organizational values; they are shown below.
Malengo's Values
1
Student welfare: Our goal is to improve the lives of the students we work with. When organizational goals seem in conflict, student welfare trumps other concerns (e.g. growth). We work for the students. Have a service mindset towards them.
2
Staff welfare: The health and happiness of our staff are more important than the work. Staff mental health is a necessity, not a luxury. Taking vacations and time off is essential. We are kind to each other. We communicate our needs. We address conflicts proactively.
3
Dedication to evidence: We are dedicated to rigorous evaluation of our success. We are constantly trying to disprove our model. If we find that we are causing harm, or not having a positive impact, we change the program.
4
A culture of learning: We try to learn quickly and fearlessly, personally and as an organization. We challenge others and welcome being challenged. We are not afraid to be wrong. We let go of bad ideas joyfully and without our ego getting in the way.
5
Openness and honesty: We strive to communicate openly and honestly. We own up to mistakes immediately and without sugar-coating. We respond to others' mistakes calmy and supportively. We give kind, constructive feedback to subordinates. We "manage back" proactively to superiors.
6
Inclusivity and diversity: We strive towards a culture of tolerance and welcoming. We don't judge, make fun of, or gossip about others' identity, culture, preferences, and habits. We address conflicts proactively. Intolerance has no place at Malengo.
7
Planned obsolescence: Our ultimate goal is to become obsolete as an organization. We are dedicated to the mission, but not the organization. We have a collaborative, not a competitive mindset vis-à-vis other organizations working towards similar goals.
Legal and Psychosocial Support
In addition to the mentoring program, we also provide out students with legal and psychosocial support where needed. For example, on several occasions, our lawyer supported students in interacting with landlords and employers who didn't follow the rules. Students who deal with stress and isolation have received support and referrals from our clinical psychologist.
Initial Data on the Impact of the Uganda–Germany program
The data our research team (more on them below) collects on our applicants allows us to give a sense of their background. Our students come from low-income families, living on $1.40 per person per day ($42 per person per month) before program entry. Women make up 33% of the first cohort, 59% of the second cohort, and 35% of the third cohort. For the 2024 intake, we will target a share of 50% women.
After the first year of studies, students have to cover their living expenses through part-time jobs (as is typical in Germany). The 23 students of the first two cohorts report earning an average of $905 per month after 11 months in Germany, after taxes. This represents a 2,200% increase relative to their consumption before the program (1,000% after taking prices into account). It is sufficient to cover all expenses, and roughly in line with the German government's official guidelines on the required budget for students (EUR 934 per month). The average is likely to increase over time, as students in their first year of studies transition from Malengo's financial support to funding themselves through jobs.
While studying, students are sending an average of $120 per month to their families in Uganda. This represents a 110% increase in the income of the remaining family members.
All but one current Malengo students expect to graduate within 4 years. (The remaining student had some bad luck in exams due to personal challenges, and we are currently filing a hardship application on his behalf, while simultaneously exploring other options with him, both for alternative courses of studies and vocational training in Germany.)
Relationship with German Authorities and Universities
An important ingredient in Malengo's success is a functional working relationship with the embassies that issue the student visas, and the universities where students study. On both fronts, we have had excellent experiences so far. The political backdrop is that Germany is urgently promoting immigration to combat its dramatic shortage of skilled labor, e.g. through the newly reformed Immigration Act for Skilled Workers (Fachkräfteeinwanderungsgesetz, FEG). We have noticed this positive attitude towards immigration in a number of places:
The German Embassy Kampala bent over backwards to make appointments available for the Malengo students. They went so far as to open 30 minutes early every day for several months to accommodate our students.
Before departing to Germany, Malengo's 2022 cohort received a send-off by the Vice Ambassador at a reception at the Embassy in Kampala (see picture).
The German Academic Exchange Service (DAAD) has taken an active and positive interest in Malengo. Early conversations with the East Africa Office in Nairobi were followed by a formal presentation of Malengo by Malengo's CEO Johannes Haushofer at DAAD in September 2023. The DAAD Lecturer at Makerere University, Rebekka Junker, spent an afternoon with the 2023 cohort at their orientation in Kampala to listen to their thoughts and answer questions about living and studying in Germany.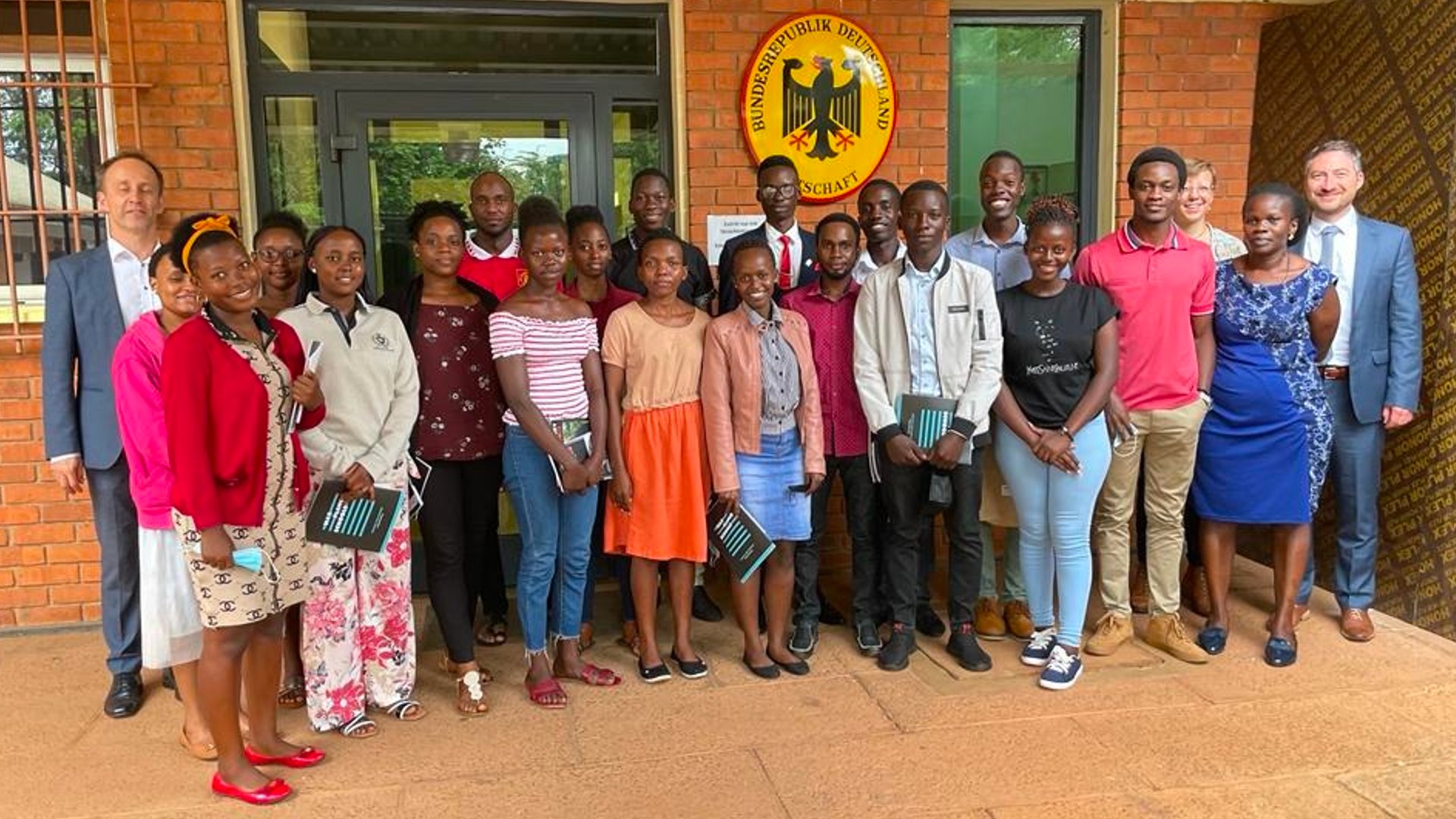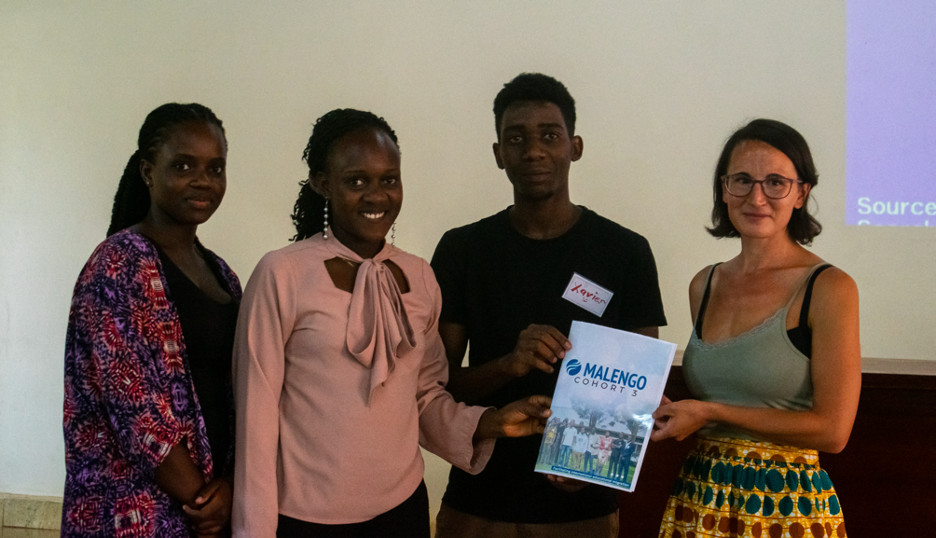 Philanthropic Support and Public Engagement
We were fortunate to attract supporters and donors early on: In 2021 and 2022, we raised $1.3M in donations, and in 2023, $1M to date. Important early supporters were the Livelihood Impact Fund and Unorthodox Philanthropy, who supported us through their "Extraordinary Leaders Transforming a Field" program.
We also received positive attention in the development, aid, and effective altruism communities, with press coverage in e.g. the Washington Post and Bloomberg. We published a "Shallow Investigation" on international educational migration on the Effective Altruism Forum, for which we received an Honorable Mention in Open Philanthropy's Cause Exploration Prize. One of our students, Gladys Amule, was joined by our first investor Richard Nerland and our founder Johannes Haushofer on the Financing Impact Podcast, where they discussed the Malengo student experience in Germany, the investor perspective, and the vision for the organization. Malengo was also featured prominently in an article on the benefits of migration on Deutsche Welle. CEO Johannes Haushofer participated in a panel on educational migration at the Global Solutions Summit 2023 in Berlin. He also gave academic presentations on Malengo at the Norwegian Agency for Development Cooperation; the German Academic Exchange Service; the University of Oslo; Singapore Management University; the Norwegian Business School; and the University of Copenhagen.
Support from the Global Development Incubator
Starting in 2022, Malengo received support from the Global Development Incubator (GDI), an organization that identifies and grows high-potential development organizations. In addition to financial support, GDI seconded three senior staff member to Malengo, who serve as Interim COO, Strategy Director, and Chief of Staff, respectively (see below). Their arrival has been a watershed moment for the organization and allowed us to professionalize in a way that would otherwise not have been possible.
GDI Staff at Malengo
Jessica Fullerton, Interim COO Jessica has over fifteen years experience working in strategy as a consultant at Bridgespan and Dalberg and in internal strategic and operational roles at Evidence Action and the International Rescue Committee (IRC). She is currently a Director at the Global Development Incubator working with high impact start-ups. She has an MBA from Columbia and an MPA from Harvard Kennedy School.
Jason Wendle, Interim Strategy Director Jason has 20 years of strategy and build experience in the social impact space, including impact-linked investment and finance. As a Director at GDI, he oversees the People on the Move portfolio of initiatives, which span across labor and educational mobility, refugee economic inclusion, and combating human trafficking. He has an MPA/ID from Harvard Kennedy School.
Tanmayta Bansal, Interim Chief of Staff Tanmayata has worked for over 10 years in international development, supporting evidence-based decision making across policy, grant-making and, investment organizations. She is currently a Senior Associate at the Global Development Incubator where she leads and supports the strategy and operations for high impact startups. She has an MPP from Duke University.
Advisory Board
We have convened a high-caliber advisory board consisting of the following members:
Batya Blankers is the CEO of Chancen International, and a pioneer in providing income share agreements in Africa.
Michael Clemens is one of the pre-eminent migration economists in the world.
Debra Fine is the chair and founder of Fine Capital Partners, and serves on the boards of the Center for Global Development and Save the Children.
Ciku Kimeria is the Africa Editor at Quartz, and also has the distinction of having graduated with the top KCSE score in Kenya in her year before attending MIT.
Karen Levy is Partner and Cofounder of Fit for Puropse and a serial social entrepreneur with longstanding experience in East Africa.
Daniel Yu is the CEO of Wasoko, Africa's fastest-growing company.
Ponsiano Ziriko is a star Malengo Scholar from the first cohort (2021) and has been doing incredibly well during his time in Germany.
Jason Wendle is a Director at the Global Development Incubator, and Malengo's Interim Strategy Director.
Financing through Income Share Agreements
To make the program sustainable, Malengo students enter into income share agreements (ISAs): once they earn a sufficiently high income, they are expected to contribute a percentage of their income back to the program for a specified period of time, and up to a specific maximum amount. In the 2023 cohort, students who later live in a high-income country and earn more EUR 27,000 per year are required to contribute 14% of their gross income for up to 10 years. Students who live in a low-income country and earn more than EUR 27,000 per year contribute 7% of their income for up to 5 years. The maximum lifetime repayment amount is capped at 2.5 times what students receive from the program. Students with incomes below the threshold are not required to make contributions, except for a EUR 10/month "stay-in-touch" payment for those living in high-income countries.
Will the Income Share Agreements Work?
Income share agreements are now a widely used and reliable instrument to enable students to fulfill their educational goals, while at the same time delivering returns to investors. For example, our partner organization Chancen eG operates the world's oldest ISA algorithm (25 years) with German private universities. Across both German and non-German students, Chancen eG assumes a default rate of less than 5% and has had zero defaults since expanding out of a single university in 2016. In fact, their program projects such reliable returns that they issue public bonds for their capitalization. Malengo's current model, with lower-cost public universities, does not require nearly the same repayment rates to deliver our estimated returns, but because we also operate in the German context, we will not be surprised by levels of repayment discipline and default that are better than our model's conservative assumptions.
Germany and the entire EU has an Open Banking regime, allowing easy access to students' financial information, and enabling direct withdrawals of ISA repayments from their bank accounts.
Enforcement of financial obligations in Germany is straightforward because each individual must be registered with local authorities at their place of residence and has a unique tax ID. Malengo's ISA contract was developed by the same law firm as that of Chancen eG. To determine repayments, students are contractually obligated to provide income statements and tax returns to Malengo. Repayments are automatically deducted from students' bank accounts. Current data from monthly stay-in-touch payments suggests high repayment discipline. As of July 2023, Malengo has 99% compliance on the monthly €10 payments that each student has to make.
As mentioned, current students have already found part-time jobs and are sending remittances home and all students currently expect to graduate within 4 years.
Turning Malengo into an investment opportunity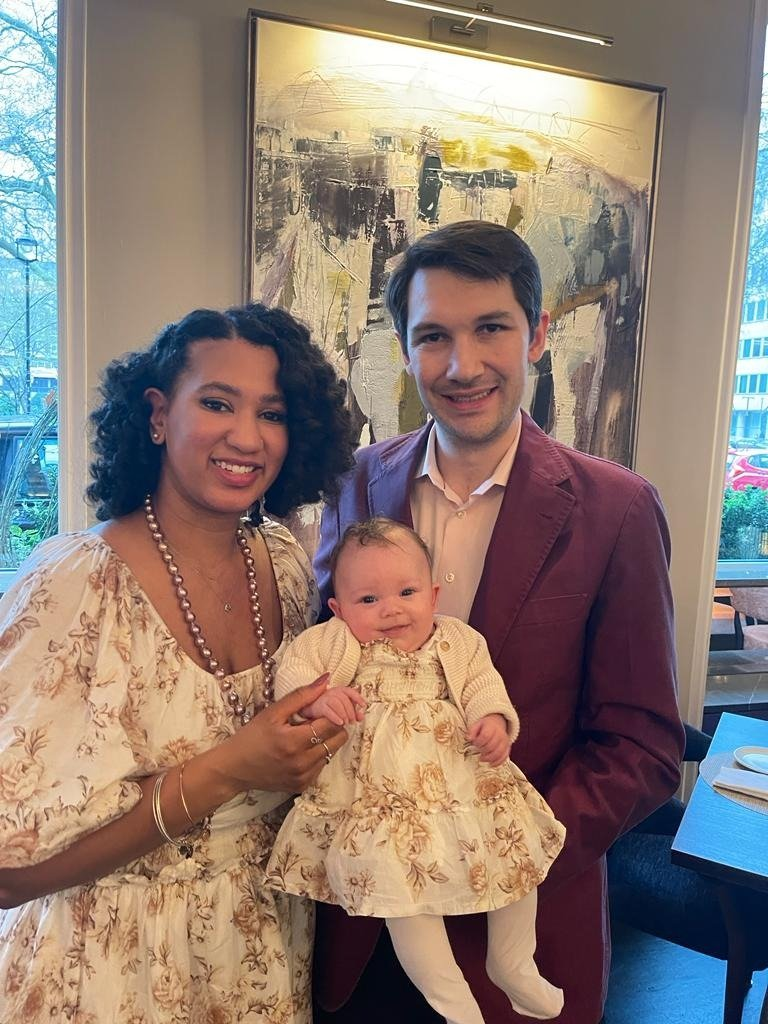 Malengo's 2023 cohort is the first to be financed by investment in the ISAs: we were fortunate to welcome Richard Nerland (picture) as our first investor. Together with him and law firms in Germany, the US, Uganda, and the UK, we developed a legal structure that allows individuals to invest into a special-purpose vehicle (SPV), which then makes the funds available to students as income share agreements. Once the students begin making repayments, these are sent directly back to the investor, minus administrative costs and fees for Malengo.
Richard invested $3.5M into this structure, allowing us to support the entire 2023 cohort, and some students from previous cohorts.
The 2024 cohort will be financed through the same investment opportunity. We regard this structure, which was conceived and developed together with Richard, as an important financial innovation. In contrast to debt, the investor earns a variable return that depends on the performance of the students; they carry the risk, but also earn any possible excess returns. Starting in 2025, we will also offer investors more complex modes of engagement, including participating with senior debt.
Francophone Africa–France Program
This year, we are piloting a program that supports students from Francophone Africa who want to study in France. The reason to expand in this direction is that France has significant potential for Malengo's growth: in contrast to Germany, where we are limited to the (growing but still small) number of Bachelor's programs taught in English, we face no such limitation in France for students from Francophone Africa, where French is usually the language of instruction in secondary school.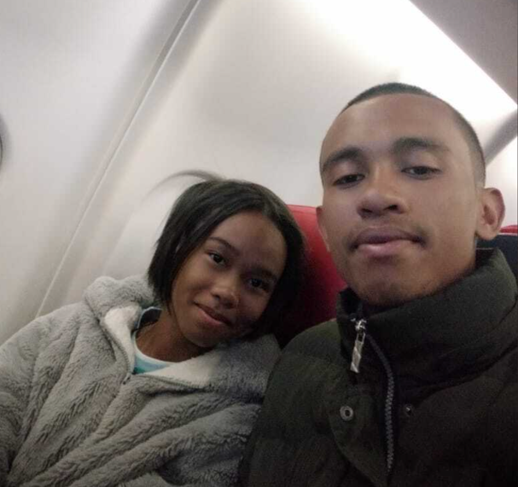 We launched our Francophone program in April 2023. Because the application deadline for French universities for first-year students had already passed, we focused on students who had already applied, but did not yet have the means to fund their studies. We did not restrict the program to first-year students, but included those who applied to higher years and Master's degrees. We also took a less place-based approach for our Francophone program than for the Uganda–Germany program: we advertised widely on social media throughout Francophone Africa, and received 80 applications from 14 countries. We made offers to 10 students from Côte d'Ivoire, Republic of Congo, and Madagascar, of whom 9 accepted our offer. Our support consisted of assistance in applying for visas, finding housing, and financing of living expenses and travel costs. Our Francophone students also received financing through ISAs.
In developing these ISAs, because the students' needs were very heterogeneous, we offered customized, student-specific terms: the percentage of income that each student contributes after they reach the minimum income threshold, and the duration of contributions, is determined individually for each student depending on their year of study and chosen course.
As of September 2023, 8 students have reached France and are beginning their studies. One had their visa denied, so we'll try again next year.
Expansion Plans for Higher Education
European undergraduate programs provide a unique opportunity for scholars from low-income countries because tuition is either free or heavily subsidized. (For those who fear that using these opportunities is "taking advantage" of the host countries, recall that the fiscal return to higher education is somewhere between 6–10%.) The table below provides an overview of study opportunities in 14 European countries, sorted by how long we estimate it takes to earn back the costs of tuition and first-year living expenses. (The motivation for this choice of cost is that after the first year students can typically support their living expenses through part-time jobs.)
| | | | | | |
| --- | --- | --- | --- | --- | --- |
| Country | Total cost of tuition + first-year living expenses | Average salary | How many years of average salary to earn back entire BA degree cost? | Estimated number of spots for foreign students per year | Financing volume per year in direct costs |
| | | | | | |
| Belgium | $11,667 | $55,590 | 0.21 | 30,540 | $356,316,972 |
| Austria | $11,967 | $53,903 | 0.22 | 1,230 | $14,719,150 |
| Germany | $13,542 | $53,639 | 0.25 | 4,020 | $54,438,840 |
| Norway | $14,235 | $54,027 | 0.26 | 90 | $1,281,150 |
| France | $17,439 | $46,481 | 0.38 | 64,913 | $1,132,023,821 |
| Switzerland | $28,702 | $66,567 | 0.43 | 10,320 | $296,203,523 |
| Italy | $21,445 | $39,189 | 0.55 | 1,170 | $25,090,355 |
| Portugal | $27,052 | $38,759 | 0.7 | 2,280 | $61,679,360 |
| Denmark | $41,481 | $57,150 | 0.73 | 1,950 | $80,888,645 |
| Netherlands | $45,793 | $56,552 | 0.81 | 13,680 | $626,448,816 |
| Finland | $46,371 | $45,698 | 1.01 | 3,180 | $147,459,820 |
| Sweden | $52,015 | $46,495 | 1.12 | 3,390 | $176,331,575 |
| Spain | $51,432 | $38,758 | 1.33 | 6,420 | $330,191,368 |
| Ireland | $74,469 | $50,490 | 1.47 | 73,920 | $5,504,768,256 |
| | | | | | |
| Total | | | | 217,103 | $8,807,841,652 |
Malengo's scaling timeline is shown in the table below. We sent 7 and 17 students to Germany in 2021 and 2022, and are in the process of sending 120 in 2023, as well as a pilot cohort of 10 students to France. In 2024, we plan to add Belgium, followed by Austria, Italy, and Switzerland (2025); Portugal, Finland, Sweden, Netherlands (2026); Denmark, Spain, Ireland (2027); and Norway (2028). We project that the number of students can grow by a factor of about 2.9 each year. At this rate, the program will reach 38,000 students per year by 2030, for a total financing volume of USD 4.3bn/year in direct costs.
Expansion Plans for Vocational Training: Kenya–Germany
Malengo's higher education programs are promising because they will lead to dramatic income gains for young people from low-income countries. However, those who qualify for the program necessarily have completed secondary school, which restricts the pool of people who can benefit from Malengo. To expand Malengo's reach, we will therefore pilot a vocational training program in 2024, in partnership with development economist Jakob Hennig and his non-profit organization, Deraja. We will focus on Kenya as an origin country, which has high rates of poverty and a large number of young people in urgent need of employment. The destination country is again Germany, which faces a significant shortage of skilled labor, and is urgently looking for high-skill immigration.
In contrast to German universities, which offer numerous undergraduate degrees taught entirely in English, vocational training requires significant German skills already at the outset. For the purposes of the pilot program, we will therefore identify potential trainees who already have German skills, and coach them to obtain a trainee position with a German company. In the medium term, the program will begin with a year-long intensive German language course in the home country, followed by applications to German companies and the 2–3-year training in Germany. Similar to the higher education program, trainees receive a personal mentor who helps them through the application and visa process, and supports them in settling in in Germany. In contrast to students in higher education, vocational trainees receive a modest salary from their employer as soon as they begin training.
Financing is again through income share agreements, which cover the cost of the initial language training, the application process, and flight and visa costs.
Ukraine Program
When the war in Ukraine began, we quickly developed a program to allow displaced students to continue their studies in Germany. We had over 300 applications, and made offers of support to 30 students. We kept the number small because the "impact" case for these students (who could afford to study at university without our help previously) is weaker than for those whom we normally support. Three students took up our offer and began studies in Germany. The reason for the small number of takers is likely that students were figuring themselves out and exploring many options.
Research at Malengo
We are dedicated to evidence, and to evaluating the impact of our program, not only on the lives of the students themselves, but also on their families and home communities. We have partnered with a world-class team of researchers who will study these important questions:
Toman Barsbai Associate Professor Economics, University of Bristol
Merve Demirel
PhD student in Economics, Stockholm University
Emmanuel Nshakira Rukundo
Senior Researcher, RWI Liebniz Institute for Economic Research
Marcello Perez Alvarez
Assistant Professor of Development Economics, Groningen University
Matthias Sutter
Director, Max Planck Institute Bonn, and Professor of Economics, University of Cologne
The research team has been successful in obtaining funding from EconTribute (€150,000), the Max Planck Society (€250,000), the World Bank ($280,000), and C-SEB ($15,000). They are currently conducting three studies:
Randomized controlled trial of the Malengo program: This large-scale, multi-year study will evaluate the impacts of the program. Particular emphasis is placed on measuring not only economic impacts of the program, but psychosocial outcomes (e.g. life satisfaction); to measure not only direct effects, but also spillover effects, e.g. on the families of scholars and their home communities; and to measure not only positive impacts, but also potentially negative ones (e.g. possible experiences of discrimination or loneliness amongst the scholars; possible sadness about a far-away family member amongst parents and siblings). The study currently includes ~280 students (140 treatment, 140 control) and their families and home community members. Depending on the size of Cohort 4 (2023), the study may reach the required number of participants with that cohort.
Representativeness study: This survey of 259 randomly selected Ugandan high school graduates and 387 randomly selected Ugandans asks how Malengo's applicants and scholars compare to other Ugandans. Analysis is ongoing.
Encouragement study: In this study, the research team informed 3,607 current Ugandan high school students (and thousands of their non-surveyed classmates) in 188 schools about Malengo. 3,659 students in 189 schools serve as the control group. Early results suggest that learning about Malengo makes students see more benefits of and fewer obstacles to studying abroad; more willing to study and live abroad and more confident that they can realize these goals; more willing to obtain a university degree in general and prefer a later age at which to have their first child; and report higher levels of agency and higher learning support from parents and teachers. As a next step, we will test the impact of the intervention on grades in final high school exams.
Failures
We have had some painful failures as well. Here is a short overview:
Funding
GiveWell, the Global Innovation Fund, and Schmidt Futures turned us down for funding after some conversation. We've resumed some of these conversations this fall and hope for a better outcome.
We also received No's from the Agency Fund, Charity Entrepreneurship, Mulago Foundation (twice!), OpenPhilanthropy, UBS Optimus, MasterCard Foundation, and the FTX Future Fund (although the latter was perhaps a blessing).
We received $60,000 from FTX through a donor-advised fund (not the Future Fund) before it collapsed. After the collapse, we returned this money.
Research grant applications to Volkswagen Foundation, Riksbankens Jubileumsfond, STEG, the Spencer Foundation, and the NOMIS Foundation were also unsuccessful. A grant application to the Swedish Research Council failed when the Swedish government cancelled the funding round after the review process had begun.
We'll re-apply to many of these opportunities in the coming year.
Fraud case in 2022
In recruiting Cohort 2 of the Uganda–Germany program in 2022, we experienced an unfortunate incident: seven of our 30 admitted students got TOEFL scores that were too low for university admission, and subsequently either falsified or intended to falsify their scores to obtain admission anyway. This scheme was orchestrated by one of our students from Cohort 1. We found out because a university flagged irregularities. The financial damage was limited because these students had not left for Germany yet. We nevertheless responded strongly, expelling the seven students and the mastermind, and reporting the latter to the authorities. We also developed a code of conduct, which has been signed by all scholars and staff, and which will remain an integral part of our program and identity in the future.
One student may not graduate
In summer 2023, one of our students failed a class for the third time, upon which the university exmatriculated them. We have appealed this outcome because the student faced a difficult family situation at the time. But if the appeal fails, it is likely that this student will not graduate from their originally chosen course. If this happens, we will continue to support them in either finding a new degree course to study, or switching to vocational training.
Staff Growth
We have also been fortunate to attract a number of high-caliber full-time staff to Malengo over the past year:
Stephen Mangira joined us as the Senior Program Manager for Africa. He has many years of experience in education in East Africa, having previously worked for Gray Philanthropies, IDEO, and Educate!. Stephen holds a BA in Sociology, Public Administration, and Communications, and an MA in Project Planning and Management from the University of Nairobi.
Nathalie Hubschneider joined us as the Country Director for Germany. Nathalie comes with many years of experience in a senior leadership role at Chancen eG, one of the most prominent German ISA providers. She holds an MSc in Management from ESSEC and Mannheim University, and a BSc in Business Adminisration, also from Mannheim.
Lisa Perez joined us as our Program Manager in Germany. A native of Guatemala, she previously worked as a program officer supporting international programs for CLEAR Global. She holds an undergraduate degree in International Studies from Universidad de Monterrey, and a European Master in Migration and Intercultural Relations from the prestigious "Erasmus Mundus" consortium of universities.
Stella Ongorok joined us initially as our Program Coordinator in Uganda, and was then promoted to Program Manager. She holds an MA in Social Sector Planning and Management, and a BA in Social Sciences, both from Makerere University.
Andrew Job Okullo joined us as Program Coordinator in Uganda. He is a development practitioner with a specialization in youth development programming in the nonprofit sector. He previously managed youth development programs with Compassion International and Restless Development. Job is passionate about policy analysis and policy influence through documented and grounded evidence using participatory and youth-led models. He holds a BA in Rural Development, an MA in Management Science, and a Diploma in Monitoring and Evaluation.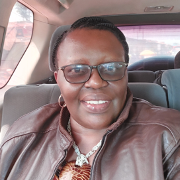 Nellie Okullo joined us as Program Coordinator in Uganda. She has a Bachelor's Degree and a Diploma in Education from Kyambogo University, a Masters Degree in English Language Studies from Makerere University, a Diploma in Public Administration and Management from the Uganda Management Institute, and a Diploma in ICT and Pedagogical Development
from Stockholm University.
Goretti Ikaidu joins us as a Customer Experience Officer in Uganda. She has a Bachelor's degree in Environmental Science from Makerere University, and a Certificate in Natural Resources Management from China.
We are also fortunate to have several part-time specialist staff supporting us for specific needs: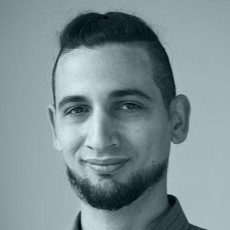 Linda Kleppin
Clinical Psychologist
Stephanie Kluge
Legal advisor
Angélica Serrano Galves
University Advisor
Martin Hahn
IT Specialist
Daniel Bahr
IT Specialist
Finally, welcomed several great interns, both in Uganda and Germany; including one of our very own students, Gladys Amule!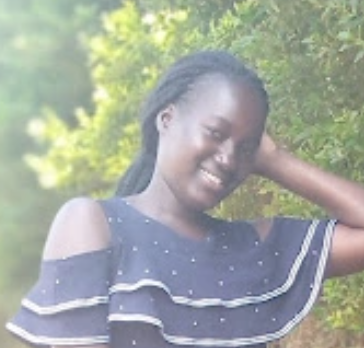 Gladys Amule Uganda/Germany
Rithika Nathan Germany
Isa Begemann Germany
Funding Outlook
We have aggressive expansion plans for the 2024–2026 period. We plan to support 400 new students in the Uganda–Germany program in 2024, 800 in 2025, and 1,200 in 2026. Following this year's Francophone pilot program and next year's vocational training pilot, we plan to send hundreds of students and trainees through these new pathways by 2026. Our objective is to support nearly 3,000 students and trainees by 2026.
To meet these goals, we are immediately raising $14.4M to invest in the 2024 Uganda–Germany cohort, with a targeted close of December 31, 2023.
In addition, we are raising $6M in philanthropic support to (a) build critical infrastructure to enable us to reach breakeven scale; (b) expand our scope to Francophone Africa and vocational training; (c) provide additional mentoring to students to bolster the investment model before achieving scale; and (d) take a first-loss equity stake in investments that catalyzes other types of capital.
Supporting Malengo and Getting in Touch
You can donate at https://malengo.org/donate.
For investments, take a look at our Investor Memo and contact us.
If you have any other questions, please get in touch! You can reach the CEO, Johannes Haushofer, at [email protected]; and the COO, Jess Fullerton, at [email protected].
Thank you for your support!